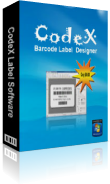 Barcode Label Designer
CodeX Barcode Label Designer is a powerful, efficient and easy-to-use barcode generator and label design software. Unlike most barcode label software packages, this application can create not only barcodes but also labels such as address labels, shipping labels, CD/DVD labels, ID card and more...
Main Features
Easy-To-Use & Powerful
With a graphical label design interface, label design is easy
With a few clicks, you can generate labels with wonderful designing objects
With the mouse you can create, move or resize each drawing element visually and freely
Supports the Most Popular Barcode Types
1D Linear Barcodes: EAN-13, EAN-8, Code 39, Code 39 Extended, Code 93, Code 93 Extended, Code 128 Auto, Code 128A, Code 128B, Code 128C, Code 11, Codabar, UPC-A, UPC-E, Standard 2 of 5, Interleaved 2 of 5, EAN 128 and UCC 128.
2D Barcodes: Aztec, Data Matrix, PDF 417 and QRCode.
Supports Dynamic Data
You may want to print labels on which data changes for each label, with our labeling software, the barcode, text and image elements can read data from database field.
Excellent Technical Assistance And Support
Backed by a team of experts having extensive labeling experience
Proven high quality consulting and support with quick response times
Assurance to get the best-suited labeling solution
Testimonials
I am making bar code labels for packages. We really like your program. You have spoiled us for other stuff.
- R. J. Aubern
I went through a lot of label design software over the last week, this one is the most affordable and versatile. Keep up the excellent work!
- Jeremy Shields